Whites
by Norman Rush. Vintage, 1992.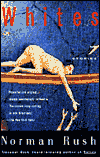 Norman Rush is best known for his award-winning novel Mating, a love story that brings together two hyperarticulate anthropologists on the grounds of an experimental community in Botswana's Central Kalahari Game Reserve. Mating is a tour de force, a wide-ranging, funny, and linguistically inventive book-length conversation packed with anecdotes of African life and observations on socialism, capitalism, society, and the relations between men and women.
But for readers who have limited patience with this sort of thing, or who want more drama, a greater variety of characters, and a less speculative take on life in Botswana, Whites is the book to begin with. Drawn from Rush's experience as the co-director of the Peace Corps operation in Botswana, Whites is a sharp investigation of the encounter between the white people who come to the country, mostly on short-term contracts -- missionaries, aid workers, government employees -- and the Africans who live there.
Despite the book's title, Whites is just as discerning in its description of the ways of the Tswana and San as it is in that of the Americans, British, Dutch, and Afrikaners. One story is told entirely from the point of view of an African boy, a member of the despised Mokgalagadi ethnic group, and it conveys his conflicted conscience and religious fixation in language that captures many of the peculiarities of English as spoken by Africans in the region (and sometimes taken up by whites living there) yet without undermining his dignity. Through his eyes we get an unvarnished picture of some of the white characters, his employers, who make their homes in Botswana -- such as Mr. Jarvis, an anti-apartheid camp follower who first hires Paul to steal some political posters for his collection. "That man was strong for Africans, I may say. Without fail at morning he would shower curses on the news reader of Springbok station from Johannesburg, as You are murderers, or cretins, at times."
"Bruns," the first story in the collection, marks the first appearance of the bright, discursive, somewhat aimless, and unnamed female anthropologist who will return as the narrator and main character of Mating. As in that novel, the content of her story -- in this case, the conflict between the idealistic Dutch development worker Bruns and the wife-beating Boer Du Toit -- is less involving than the many asides that punctuate the tale. We learn about the African Physiological Stance and how it has been adopted by Afrikaners, why kissing a rabid ox is the best way to contract the disease, and of how, in the absence of street lighting, the local Bakorwa visit, converse, make bargains, pour drinks, and play "those one-string tin-can violins," all in complete darkness.
Perhaps the most powerful and well-constructed story, however, is "Near Pala," in which a marriage cracks open in a manner that may remind you of Hemingway's "Short Happy Life of Francis Macomber." During a severe drought, two couples share a ride through the Kalahari in a Land-Rover. Through a skillful use of dialogue, by the end of the story you learn more than you may want to know about the qualities of each of them, the limits of their compassion and the strength of the bonds between them.
---
From Whites:
Nan said to Tess, "Truly, one comes to dislike the medical profession. Now I must deal with them again. Coming back here to Botswana from holiday, it was so strange and nice. We were in the plane, coming low over the land. I was happy to see Botswana again. It was so strange, Tess -- the country seemed like a poor relation, someone nice who refuses gifts at first, someone you like. This country is so poor. We were flying low over it. And then all I could think of was our friend the peerless Dr. Hartogs, who said that from the air the country looks as if it has ringworm. He was saying that the brush fencing round the family rondavels and kraals looks like that. It spoiled it."
"We love the sea," Tess said. "Give us four days and we make straight for Durban. Durban isn't nice, but it has the sea to put your feet in."
"You'll be singing a different tune about Hartogs when your day comes," Gareth said over his shoulder.