The Stone Virgins
by Yvonne Vera. Farrar Straus Giroux, 2003. 184 pages.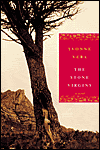 Violence is harsh and ugly, we are told. Yet when carried out by a hardened warrior, a soldier who kills with no hesitation, it may be as graceful as ballet.
A strange man appears, "like an eagle gliding," at the hut of Nonceba and her sister Thenjiwe. As Nonceba looks up, the man beheads her sister so swiftly and cleanly that he seems to take her place, "replacing each of her moments, taking her position in the azure of the sky." Before he leaves he cuts Nonceba's face, a gesture she feels as a "fleeting touch" but that leaves her badly wounded.
The sisters live in the rural settlement of Kezi, not far from Zimbabwe's second city of Bulawayo. Near their home are the Kwakhe River and the hills of the Matopos, like enormous mounds of potato-shaped boulders (and not at all like the craggy cliff pictured on the jacket of this book). Thenjiwe, the murdered sister, has recently found love with a man she met at the one-room shop that is the social center of Kezi.
Facts like these emerge only gradually from a sensual, poetic narrative voice that renders sights and sounds and smells but offers few explanations. It is even some time before any character begins to emerge. We follow Selborne Avenue out of Bulawayo, smelling the eucalyptus trees that border it and noting the purple blooms of the jacaranda. We observe the cobra-skin belts, "Slim Jim" ties, and nervously tapping fingers of the men who have returned from working in the gold mines of Johannesburg. We see the soldiers returning to their homes: the women more confident than before, "spitting onto the ground, rubbing the smoke of fires from their eyes," while the men "wear lonely and lost looks but have a touch mild as honey." Independence has come, and new mothers give their children names like Ceasefire and Freedom.
But if independence has come, the war is not really over. During the first years of Zimbabwe's independence, Robert Mugabe (mentioned here in passing only as "the prime minister") terrorized the people of the Matabeleland province in an effort to crush the power of his rival, Joshua Nkomo. Government soldiers, some of them belonging to a notorious South Korean-trained brigade, burned crops, destroyed villages, and committed mass murder and other atrocities.
The author never spells this out, and to those who don't know the history, what happens to Thenjiwe and Nonceba may seem like a random horror. All we have to explain it is vignettes of the sisters' attacker camped in a sacred cave, eating the legs of spiders, then returning to his home in a township where each house has a stenciled number and finding his father gone. We are privy to his thoughts, but they are too cryptic to be much help. "A spider," he thinks, "knows the true agony of ecstasy, that violence is part of the play of opposites."
For all its frustrating indirection, though, The Stone Virgins is a brave book that offers a searing picture of a little-known episode in Zimbabwean history, and its human cost. It is even, in its way, a love story, and it ends not with hopelessness but with the tender movements of Cephas, Thenjiwe's lover, as he struggles with his feelings for Nonceba, the wounded survivor, whose suffering has turned her into stone but who is slowly beginning to rediscover her humanity.
---
Published in The African and The African Review of Books.