Living, Loving, and Lying Awake at Night
by Sindiwe Magona. Interlink Books, 1994. 155 pages.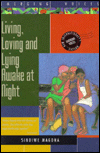 This collection of stories by the South African writer Sindiwe Magona offers a snapshot of the state of women in the waning years of apartheid. The focus of the stories is mainly on African and mixed-race women, but they provide devastating indirect light on the privileged lives of white South African women as well.
The series of linked stories called "Women at Work" that begins the book is set in and around the port city of East London. In the first, a young mother escapes the poverty-stricken countryside, leaving her children and slipping away from her village by night so that she can work in the city and, with luck, be better able to provide for them. The next story is a monologue by the mother, Amatini, a hefty woman renamed "Tiny" by her new employer, a fussy and demanding housewife referred to as Bird Legs, Kindling-Legs, and Mrs. Walk-on-Arms by the other domestics in the neighborhood.
Each of the brief stories that follow is a monologue by another of these maids and nannies. Their voices, sprinkled with phrases in Zulu, Xhosa, and Afrikaans, are deftly distinguished from one another. Together they create a detailed picture of the lives of these virtual household slaves, from the despair of Lillian, an old woman cleaning toilets for her white "medem," deprived of the respect she would receive as an elder in a traditional village, to the stubborn hope of Ntombi, a young woman well aware of the dead end of domestic work, who insists that she will soon get out, go back to school, and become a doctor.
The "medems" are, as a rule, spoiled and helpless, reliant on their black "girls" but fearful and resentful of them. The very situation of domestic work under apartheid is so poisoned that even the few well-meaning medems end up being a burden to the servants they wish to help. When one unusual medem buys a township house for her servant, the gift becomes a kind of shackle. "I feel the house is cement; because of it I can never leave this woman. Cement is like that. Never put your feet deep into wet cement. If you do, make sure you get it out before the cement dries. My cement has dried and both my feet are in this woman's house. I am stuck -- for the rest of my life."
The remaining stories demonstrate that Magona's abilities go well beyond the monologue form. Some, like "Lulu" and "Two little girls and a city," depict the violence and inequities of apartheid society in harsh and uncompromising terms. Others, like "The most exciting day of the week," told by the daughter of a "shebeen queen," express nostalgia for the dense, lively, tumultuous life of the township -- particularly on Friday, when just-paid African workers pour out of the factory looking for beer and excitement. Altogether, the collection paints a highly personal picture of South African life from multiple points of view.
---
From Living, Loving, and Lying Awake at Night:
The young woman, so sure she is here not for long when I first met her, is still here. Time, for us, crawls with the slow step of a chameleon returning from a feast. She says she is applying to training hospitals to go and learn to be a nurse: a stop-gap measure, she says, a detour on her way to becoming a doctor. I, myself, wish her luck, I pray she succeeds. But I know a lot of the other maids laugh at her behind her back. They do not believe she will escape from this place. They say she can forget about education. And they may be right. Since her mother died, who will pay for that now?
She is only four years older than Nomakhwezi and perhaps that is why I want to believe in her dreams. I have dreams too for my children although I don't tell them to the others. Dreams are like secret lovers; elusive and prone to bolt if you divulge them. I lock mine up in the deepest chamber of my heart and only take them out on lonesome nights. And then, like a magic mirror, they dazzle me with bounteous hope for the morrow.